Five firms processed three out of every four transactions with Mossack Fonseca
By Alejandra Fernández Morera and Antonio Jiménez Rueda
---
Share
At least 34 Costa Rican law firms, some of which include as partners a board member of Banco de Costa Rica and a former Minister of Economy, connected dozens of nationals - many of a high business and political profile - with Mossack Fonseca & Co., the Panamanian firm questioned for creating offshore shelters for their clients.
You can listen an audible version of the story here
Listen
The firm's internal documents, obtained by German newspaper Süddeutsche Zeitung, reveal that the relation between Costa Rican law firms and Mossack Fonseca allowed Costa Rican businesses and citizens to incorporate 362 of the 800 companies in tax havens over the past 15 years. These tax havens include Panama, the Bahamas and the British Virgin Islands, where the tax burden is lower than our country's, or even non-existent.
Establishing companies domiciled in other jurisdictions is legal, unless they are used for unlawful purposes, such as evading or avoiding domestic taxes.
In the specific case of the 800 offshore companies managed from Costa Rica, their purposes range from the apparently legitimate − such as venturing into and operating in the Panama market or possession of movable and immovable property − to intricate structures pointing to potential concealment of wealth from the Tax Administration.
Clients - Intermediaries in Costa Rica
The information comes from more than 11 million of Mossack Fonseca's internal files, dating from 1977 to December 2015, obtained by the German newspaper. The International Consortium of Investigative Journalists (ICIJ) organized a global collaborative effort and shared documents with DataBaseAR - the research unit at AmeliaRueda.com - and more than 100 media partners around the world. It is the largest journalism investigation in history.
Almost 75 thousand files are related to Costa Rica. The files analyzed by DataBaseAR include emails and attachments, providing facts and figures — cash transfers, incorporation dates, links between companies and individuals — that shed light on the universe of offshore businesses
companies created in tax havens for nationals and foreigners
incorporated through Costa Rican law firms
Five Costa Rican law firms served as the connection in three out of every four of the 362 corporations created by Mossack Fonseca: Gonzalo Fajardo & Asociados, Zürcher, Odio & Raven, ANS, IncoServ Ltda. and Batalla y Asociados S.A.
Other law firms - with limited activity - are González Uribe, André Tinoco Abogados, Lex Counsel Ltda., Guardia & Cubero, Arias & Muñoz, Facio y Cañas, and Alfredo Fournier & Asociados.
In some cases, Costa Rican lawyers also serve as local managers (collecting Mossack Fonseca fees and reviewing legal documents) for offshore companies, trusts and foundations on behalf of their customers based in Costa Rica, while the Panamanian group acts as resident agent for all before the Public Registry of the different jurisdictions. For instance, in Panama Law 32, which dates from 1927, states that any legal person must have an agent (lawyer or law firm) in that country.
The Very First of them All
Leading the way, the first Costa Rican firm to work with the Panamanian provider of offshore structures was Gonzalo Fajardo & Asociados, which is registered as a client-broker of Mossack Fonseca since December 29, 1998.
The firm was founded by Gonzalo Fajardo Salas, director general of Taxation and Finance between 1968 and 1971, Minister of Economy, Industry and Trade (1990-1993) and congressman of the Christian-Socialist party for Puntarenas (1994-1998).
Fajardo, Ph.D. in Financial and Taxation Law, is now 75 years old. His firm has been the most active of all Costa Rican firms in its relationship with Mossack Fonseca. In 17 years, it added 82 companies in tax havens, sold to Costa Ricans. Of these, 16 are still active in Mossack Fonseca's records, to which DataBaseAR had access, and they were registered between 1998 and 2013.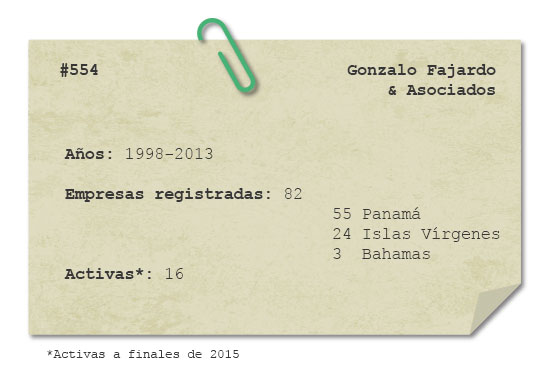 Months before becoming an intermediary, the name Fajardo Salas already appeared in Mossack Fonseca's files on invoices for services provided in the British Virgin Islands and Panama to Borda Azul S.A., a now extinct Costa Rican tuna exporting company whose owners, Hermes Navarro Vargas and Jerry Ten Brink, managed to outwit Costa Rican tax authorities in 1998.
More recently, this Costa Rican law firm participated in the incorporation of American Tropical Trading Inc., based in Panama since December 20, 2013, upon request of 57-year-old businessman Alberto Umaña Blanco, to "process exports," mainly banana and pineapple, and to open a bank account in Prival Bank of Panama.
"I would appreciate it if you could make all necessary arrangements to incorporate the company as soon as possible, as we need to open a current account [in Prival Bank in Panama] and execute purchase-and-sale agreements for bananas," Umaña wrote former vice-president of the National Chamber of Pineapple Producers and Exporters (Canapep), on December 19, 2013 in an exchange of emails with lawyers at Mossack Fonseca.
DataBaseAR contacted Fajardo Salas for comments on this link to Mossack Fonseca, but relatives explained he could not provide any statements due to a stroke suffered in 2015.
Client 8940: Banking Executive
Current member of the board at Banco de Costa Rica and founding partner of the firm Zürcher, Odio & Raven, Alberto Raven Odio, acted as liaison in the registration of 62 offshore corporations, mostly in Panama, through the Panamanian law firm.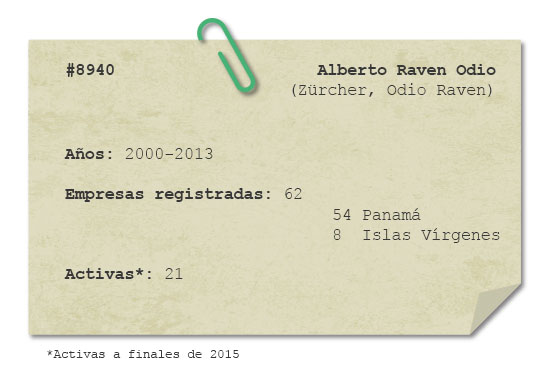 In the secret files, the 54-year-old lawyer's name is listed as 'Client' 8940 since 2000. 'Client' is the word Mossack Fonseca use in their internal documentation to refer to intermediaries; offshore company owners are identifies as 'final beneficiaries.'
Raven Odio, who believes 62 is a 'relatively small' amount, agrees with the description of 'intermediary.'
"I think that every time a Costa Rican lawyer contacts a lawyer from another country, it is with the role of intermediary," he said in a telephone interview with DataBaseAR. "He is contacting a local businessperson or client with an attorney in a jurisdiction in which we cannot practice," he said.
His relationship with Mossack Fonseca, said the banking executive, concluded in 2013, one year before the Panamanian firm opened an office in Costa Rica.
After meeting with Raven in July, 2007, Amauri Batista, an attorney at Mossack Fonseca, wrote a report indicating that Zürcher, Odio & Raven "are very old customers, and are very satisfied with our services."
Raven Odio is now in his third term as board member of Banco de Costa Rica (BCR). He was a member of the board of Banco Nacional (1997-1998) and Vice-President of the National Insurance Institute (2006-2010).
The names of the owners of TicoFruit, a company founded in 1988 in Aguas Zarcas, San Carlos, whose agro-industrial production is exported in its entirety to the United States, the European Union, Asia and Africa occasionally, stand out in the list of the firm's final beneficiaries.
TicoFruit, of Costa Rican capital, was owned by Carlos Odio Soto until July 15, 2014, when Grupo Pellas, from Nicaragua, and Grupo Motta, from Panama, became majority shareholders.
The secret files reveal that TicoFruit is a complex maze of at least seven corporations domiciled in Panama, which the firm Zürcher Odio Raven, acting as link to Mossack Fonseca, helped register: Rivara Holdings S.A.; Coberton Holdings Inc.; Morumbí S.A.; Combuhy S.A.; Sedgwick Company Inc; Serena Management and TicoSource Inc.
Ticofruit operates in a free trade zone since August 25, 2003, and is thus exempt from taxes.
Another Costa Rican businessman and client of Raven Odio and Mossack Fonseca is 61-year-old Sergio Egloff Gerli. His company, Grupo Productos de Concreto S.A., operates in Panama. His brother is the current president of the Chamber of Industries of Costa Rica, Enrique Egloff Gerli, 64 years of age.
Without referring to specific cases, Raven Odio stated that neither he nor his firm have helped a client reduce tax burdens through offshore companies.
"Our firm is not engaged in tax advisory," he said. "Whatever a client does with their tax advisors is beyond our customer relationship," he highlighted.
A Child of the Merger
Client 15417 is the law firm ANS − Abogacía, Negocios y Servicios, S.A. −, founded in 2004 after Odio & Raven's corporate restructuring following the merger with Zürcher, Montoya & Zürcher.
Client Type: 'intermediary,' reads the firm's profile in Mossack Fonseca's files. It is recorded as active since May 24, 2004. ANS has since served as broker in the acquisition of 50 offshore corporations.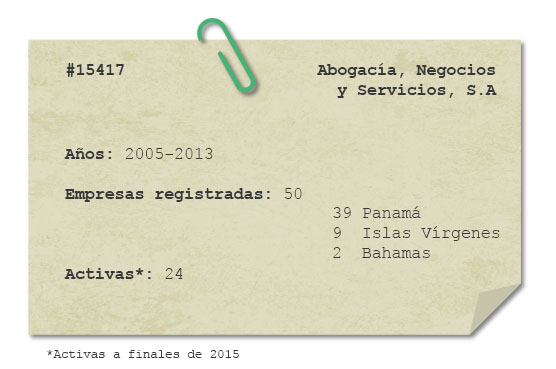 Under this scenario, between 2005 and 2013, Mossack Fonseca was the registered agent and ANS was administrator of Crowley Agencies Inc., a company whose sole asset was the Pakiki, a sport-fishing yacht with Panamanian flag owned by Carlos Manuel and Rodrigo Uribe Sáenz, 63 and 68 years old, then owners of Corporación Más x Menos.
"Please note that 100% of Crowley's shares are owned by Mr. Carlos Uribe," wrote attorney Manuel Zúñiga of ANS to Mossack Fonseca on January 6, 2005.
The Uribe's relationship with Mossack Fonseca concluded in 2013, when the Costa Rican businessmen decided to change their resident agent, choosing Panamanian law firm Alemán, Cordero, Galindo & Lee (Alcogal).
ANS is also linked, among others, to Papagayo Desarrollo Papagayo Corporation (DPC), based in the British Virgin Islands. Among its directors since 2011 is Ramón Mendiola, CEO of Florida Ice & Farm Co. (Fifco). Before Mendiola, 52, businessman Rodolfo Jiménez Borbón, 77 - and relevant shareholder of Fifco and Grupo Nación -, was also director of DPC for 9 years (2002-2011).
According to Mossack Fonseca's files, one of DPC's shareholders is Costa Rican company Ecodesarrollo Papagayo S.A.
DPC "holds shares of a company whose activity takes place in Costa Rica," explained ANS attorney, Andrés Waisleder, 41, to Mossack Fonseca's office in the Virgin Islands in an email on September 4, 2013.
Ecodesarrollo Papagayo S.A., agreed to develop, along with the Costa Rican Tourism Institute, the Nacascolo Peninsula, a tourism and real estate project which, by 2027, should include nine hotels, three golf courses, 480 single-family lots, beach clubs and a marina with a commercial village and all amenities and services.
The Costa Rican law firm also appears as intermediary for Peninsula Papagayo Principal Holdings Ltd., which in turn is shareholder of Marina Papagayo Holdings Ltd. and Peninsula Papagayo Ventures Ltd.; Peninsula Papagayo Group Corp. is also owned by the company, and all are domiciled in the BVI. Mossack Fonseca stopped being the resident agent of these companies between 2013 and 2014, according to its records.
When requested for an interview by DataBaseAR, managing partner of ANS, Fernando Vargas Cullell, stated through his assistant that "he does not have enough knowledge" about offshore service providers or corporations incorporated outside of Costa Rica.
He declined to answer detailed questions sent to him in writing.
Four Years of Courtship
In December 2003, Mossack Fonseca sent a Christmas card to Costa Rican Law Firm Batalla & Asociados. That gesture was their first attempt to establish a relationship with the Costa Rican lawyers, an effort that would continue for four years of marketing efforts including emails and personal visits to the Costa Rican attorneys.
"They raised the possibility of doing business with us if the global tax system is passed," says a report written by Batista after the meeting of March 4, 2005 with Rodrigo Zelaya and Roger Guevara, partners of Batalla & Asociados.
The report did not specify what type of business.
The regime to which they referred was set forth in the bill of the "Law on Fiscal Covenants and Structural Fiscal Reform," promoted under the Abel Pacheco administration (2002-2006). The initiative intended to combat the use of tax havens as a means of tax evasion by transforming Costa Rica's territorial tax system into a worldwide income system. This would allow collecting taxes on all income generated by Costa Rican citizens and residents, whether their gainful activity took place inside or outside the country.
The bill was passed on February 16, 2006, in first debate. However, the Constitutional Chamber declared it unconstitutional on March 22, 2006 on account of the procedure followed when processing it.
It was not until August 2007 that Batalla & Asociados became Mossack Fonseca's client and intermediary 13846. According to documents reviewed by DataBase, it brokered the registration of 21 companies.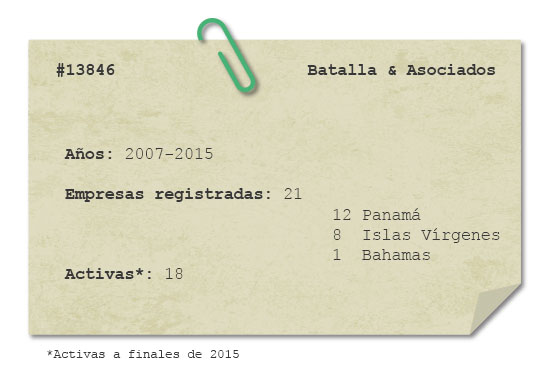 "All legal advice we provide our clients strictly abides by the law," wrote Alejandro Batalla to DataBaseAR. "We do not advise our clients to establish illegal structures or anything with the purpose of evading legal obligations."
Sporadic Intermediaries
Ten national law firms show up in Mossack Fonseca's files as local administrators of one corporation, and five law firms appear as administrators for two.
Firms with sporadic intermediations include González Uribe, André Tinoco Abogados (partner of Lexincorp, a Central American law firm) and Lex Counsel Ltda., which resulted from the merger of Carballo Abogados with two other law firms.
The more distant relationship to Mossack Fonseca is partly explained in the Panamanian provider's files.
A report by Mossack Fonseca attorney, Amauri Batista, written on July 24, 2007 after a meeting with attorney Arnoldo André Tinoco states it. "He is a little hesitant of working with offshore companies, because the clients represent a higher risk."