Joyce Zürcher Blen and her husband, Rafael Carrillo Lara, attempted to incorporate a company domiciled in the British Virgin Islands
By Alejandra Fernández Morera and Antonio Jiménez Rueda
---
Share
Mossack Fonseca & Co., the Panamanian law firm at the epicenter of a worldwide scandal for offering shelters in tax havens and for its permissiveness in taking on as clients known swindlers, drug lords and tax evaders, was strangely rigorous with a Costa Rican couple.
You can listen an audible version of the story here
Listen
Former Deputy Ombudswoman Joyce Zürcher Blen (1993-1996), and her husband, Rafael Carrillo Lara, who was general regulator of public services (1997-1998) of Costa Rica, received a "no" from the questioned law firm when they tried to establish a corporation in the British Virgin Islands.
This was revealed in internal documents of Mossack Fonseca & Co obtained by the German newspaper Süddeutsche Zeitung, and shared with the International Consortium of Investigative Journalists (ICIJ), DataBaseAR-the research unit at AmeliaRueda.com - and more than 100 media partners around the world.
The more than 11 million documents, dating from 1977 to December 2015, show the inner workings of Mossack Fonseca, specialized in creating offshore shelters for its customers.
Of these documents, 31 emails and their attachments refer to the Carrillo Zürcher family.
Because of "highly sensitive information" found on the Internet during a background check of Zürcher, and despite a letter of recommendation from a prestigious international company providing services such as audits, taxes, legal and financial advice, Mossack Fonseca's Compliance Department ordered denying them services, on October 1, 2013.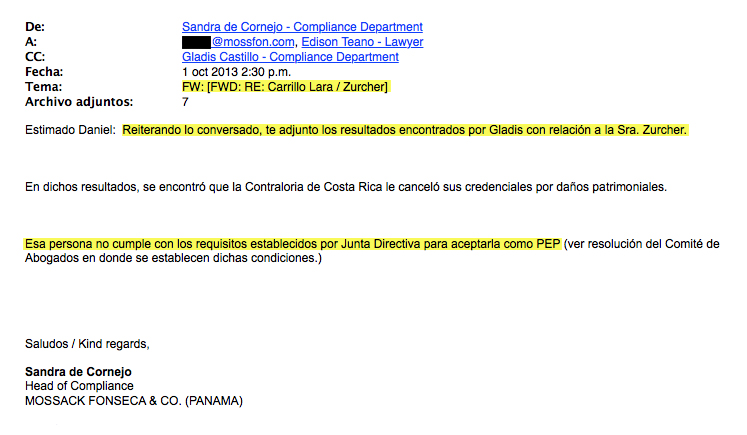 The refusal was due to remarks by the Comptroller General of the Republic (CGR) starting in 2010 against Zürcher, philosopher by profession, for presumed crimes of illegal enrichment and influence peddling, which were dismissed in 2014.
Zürcher - mayor of Alajuela between 2007 and 2010 - and Carrillo, who was also president of the Costa Rican Union of Chambers and Associates of the Private Business Sector (UCCAEP) between 2006 and 2008, approached a broker of Mossack Fonseca three years ago in the United States to incorporate Carzur Limited - a name derived from blending their last names - and have it based in the British Virgin Islands. Although this type of procedure is legal, it is the subject of public debate.
Directors in Carzur Limited, which the couple would co-own, were to be their three children, including Federico Carrillo Zürcher, executive vice president and general manager of BICSA from 2008 to 2013, and Minister of Finance between 2004 and 2005.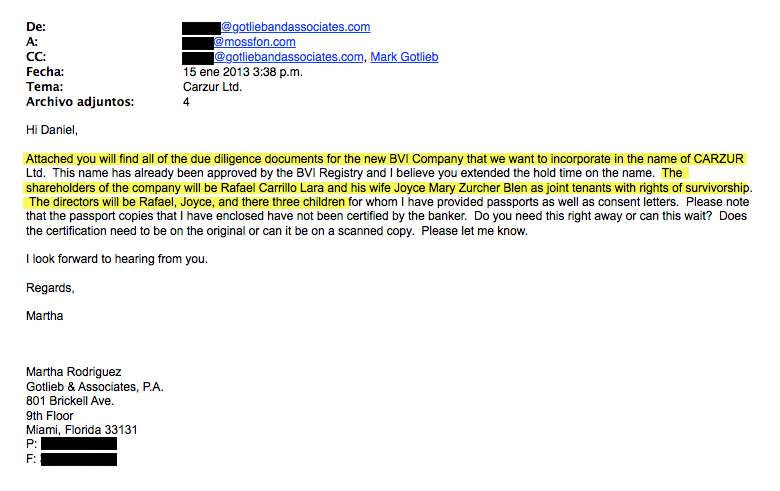 Establishing companies domiciled in other jurisdictions is legal, unless they are used for unlawful purposes, such as evading or avoiding domestic taxes.
Wiki-Alert
Mossack Fonseca documents on the former mayor, now 76 years old, and the ex-regulator, now 79, show that, after querying the World-Check database, the firm's Compliance Department classified them as 'Politically Exposed Persons' (PEP).
PEP is a term describing, in financial and insurance regulation, individuals who have been entrusted with a prominent public role and generally have a higher risk of potential involvement in bribery and corruption, by virtue of their position and the influence they may have.

What frustrated the incorporation of Carzur Ltd, though, was not the PEP status of its applicants, but finding newspaper articles and negative references in Wikipedia stating that, on September 17, 2010, the Supreme Electoral Tribunal (TSE) withdrew Zürcher's credentials as mayor elected in the 2006 elections, upon recommendation of the Comptroller General (CGR).
On July 21, 2010, an investigation by the comptroller concluded that Zürcher had, as mayor of Alajuela, violated the Law on Public Procurement. She was formally charged before the Public Prosecutor of the crimes of embezzlement, evasion, administering to her own advantage, misrepresentation, illegal enrichment and influence peddling.
The alleged infractions identified by the CGR concerned, inter alia, improper duplicate payment of a salary bonus to an official in the municipality and the purchase of tires in the amount of ¢5.4 million for municipal vehicles from a company in which Zürcher was shareholder, and whose board of directors included her as a member.
"Mrs. Zürcher Blen has been exposed to the normal criticism and accusations constantly presented against a person of very high political level. Nonetheless, there are no accusations whatsoever that have not been properly cleared without detriment to Mrs. Joyce," wrote public accountant Javier Cotera in a letter of recommendation dated August 23, 2013 forwarded to Mossack Fonseca's Compliance Department.
Cotera was partner in Costa Rica of Grant Thornton International, a prestigious international audit services company, but his words did not change the opinion of the Panamanian firm.
On September 22, 2014, the Criminal Court of Finance issued a definitive dismissal of the accusations of the CGR against Zürcher, who had been congresswoman for Partido Liberación Nacional (PLN) from 2002 to 2006 before taking office as mayor of Alajuela.
No Means No
In their attempt to incorporate Carzur Limited in the British Virgin Islands, Rafael Carrillo and Joyce Zürcher chose a law firm at the heart of the business district in Miami, Florida, and broker of Mossack Fonseca since February 10, 2011: Gotlieb & Associates, P.A.
"We have a new client who would like to incorporate a company in the BVI. Can you tell me if the name CARZUR is available?," says an email sent on November 16, 2012, from Martha Rodríguez of Gotlieb & Associates to the administrative coordinator of trusts at Mossack Fonseca, Daniel León.
Two months later, on January 15, 2013, Gotlieb & Associates sent Mossack Fonseca documentation on the couple and their children (résumés, copies of passports and utility bills, among others) to comply with the due diligence procedure that Panamanian lawyers must apply by law since 2011 to adequately know their customers, which includes asking and verifying their personal information.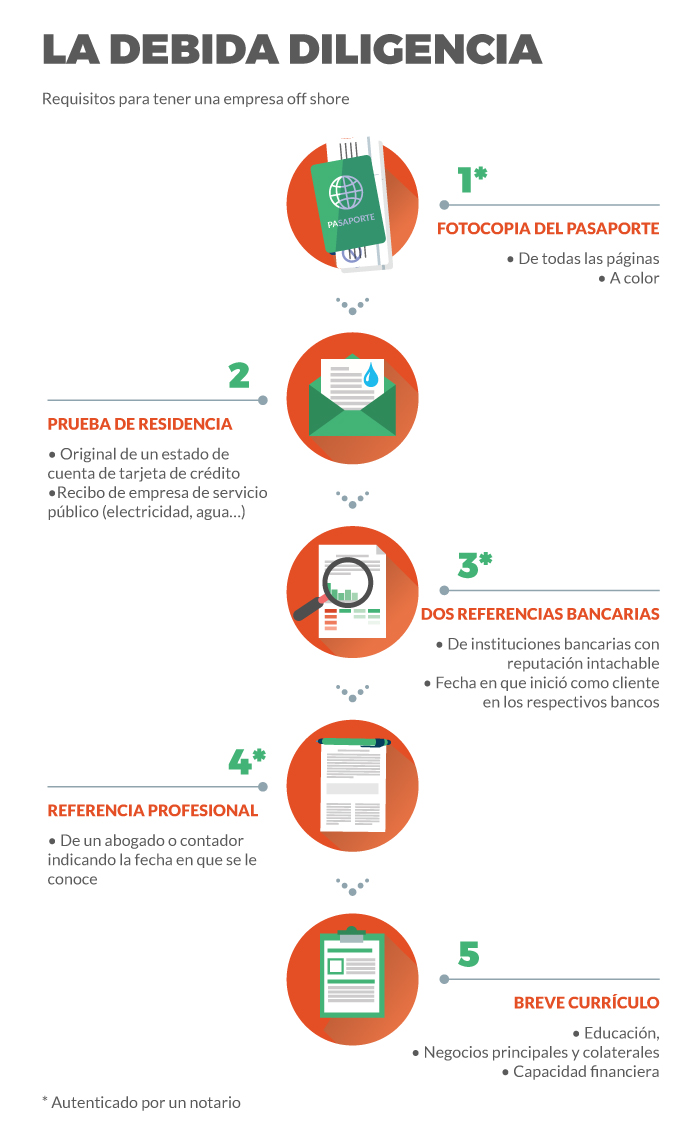 Although the Compliance Department at Mossack Fonseca recommended declining services, internally Edison Teano, Mossack Fonseca attorney, argued for accepting the Carrillo Zürcher family as a client, considering the risk was not too high and, "due to their names and the posts they have occupied, they seem to be economically powerful people, and influential in their country."
The process and communications slowed down during eight months, until September 24, 2013, when Gotlieb & Associates sent Mossack Fonseca, for review by their Compliance Department, the letter of recommendation written by one of the partners of Grant Thornton International, an audit services company, on behalf of Zürcher Blen.
"Through my business dealings with her husband and several members of their immediate family for over twenty years, I have had the privilege of knowing Ms. Joyce Zürcher as an irreproachably honest person, through and through," said accountant Cotera Mira in the letter.
Cotera's words were insufficient, and the attempt failed.
"This person [Zürcher] does not comply with the requirements set forth by the Board of Directors to be accepted as PEP," replied Mossack Fonseca's head of Compliance, Sandra de Cornejo, on October 1, 2013, attaching an agreement by the committee of attorneys on April, 2013. Among other things, it stated that no politically exposed persons would be accepted as clients if negative results were to show up while performing a background check.
When contacted by DataBaseAR, Zürcher preferred her husband comment. Carrillo said Carzur was going to be a family business but it never materialized, though not for lack of approval, he said, "not at all," but because "we changed our minds."
Upon learning Mossack Fonseca's decision, the intermediary firm in the US made their own decision too, included in an email of October 10, sent by Martha Rodríguez of Gotlieb & Associates to the Panamanian law firm: "Based on these findings, we also reject the customer."